Exer Urgent Care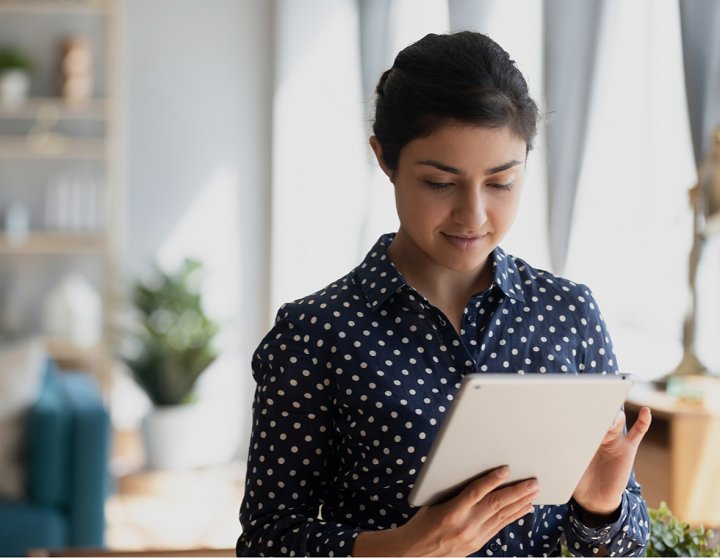 With over 30 clinics in California, and a new one opening every month, Exer needed a digital experience to match their growth. Patients seeking urgent care are usually in a rush, and their old website was too static and tough to navigate. In order to align Exer's web presence with the fast, friendly, and state-of-the-art care that their clients receive at every clinic, we completely revolutionized and extended the capabilities of their website.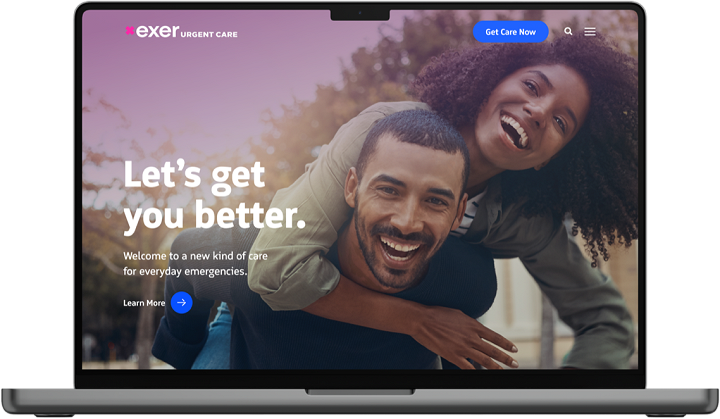 We evolved Exer's website to match the top quality and convenient care their patients receive.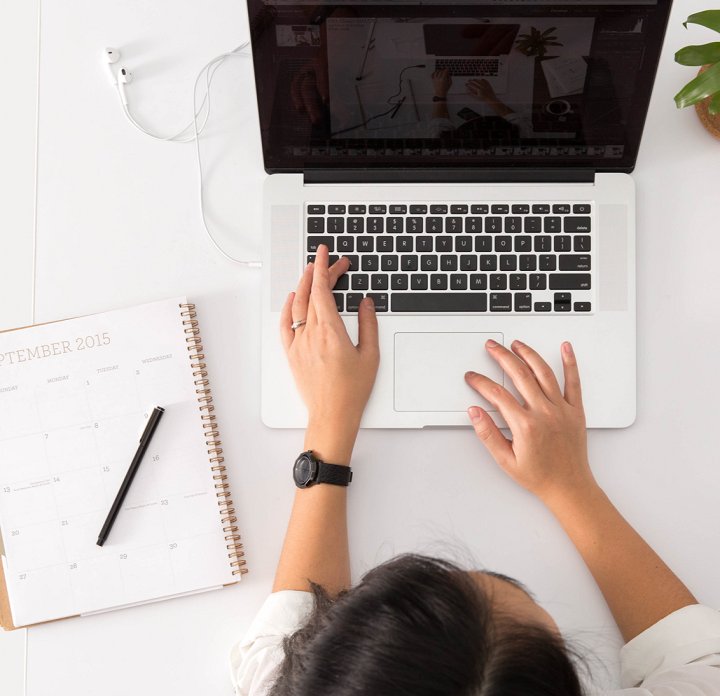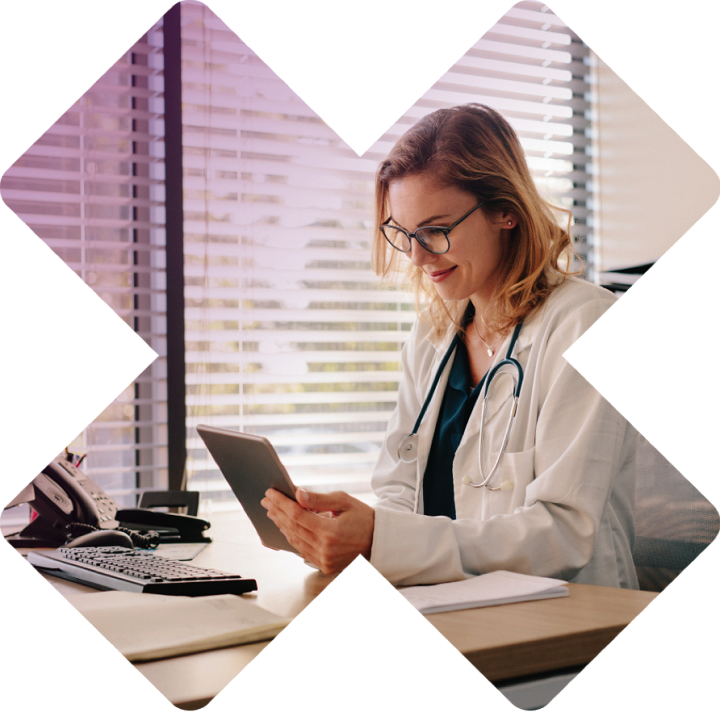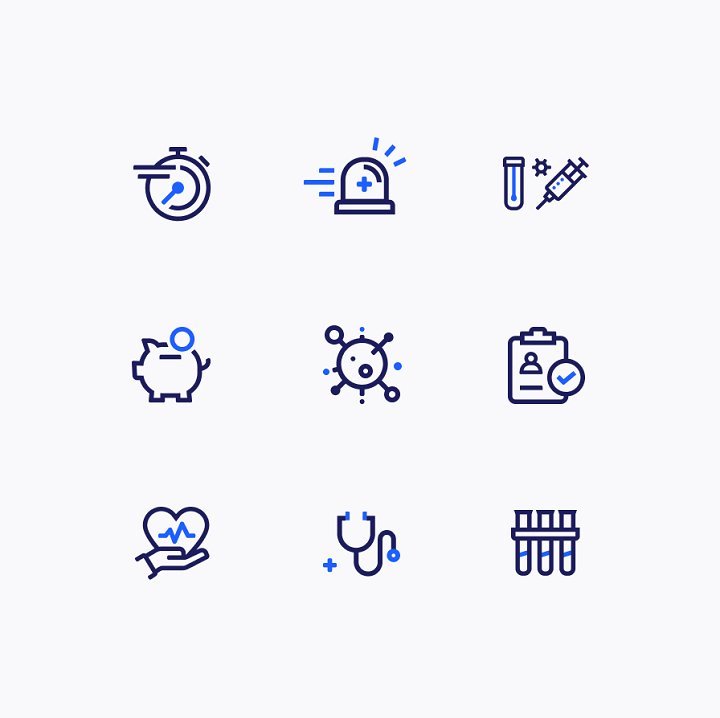 Our digital experience was built in tandem with Exer's corporate rebranding
Our work with Exer was augmented by a full rebranding effort, ensuring our work was as crisp, clean, and sophisticated as the new Exer brand. With a simplified and intuitive UX and navigation, the new Exer website makes it easier than ever for patients to get the urgent care they need.
Along with a fresh new look, we rolled out a full suite of industry-leading features. This includes a revolutionary interactive map of all Exer clinic locations, including real-time information about current wait times, prominent COVID resources, and a Get Care Now page to help patients seamlessly book appointments and get the right care faster.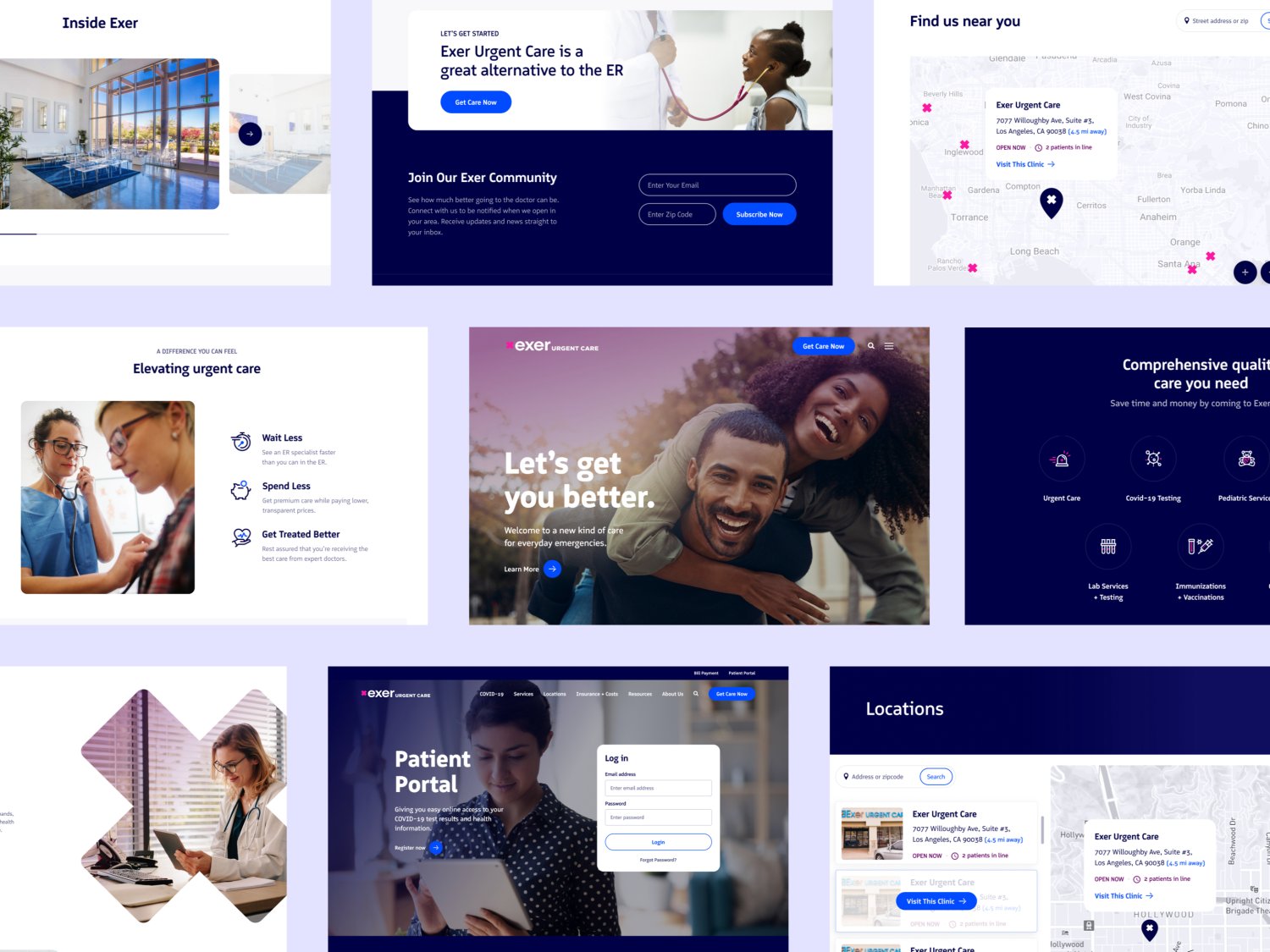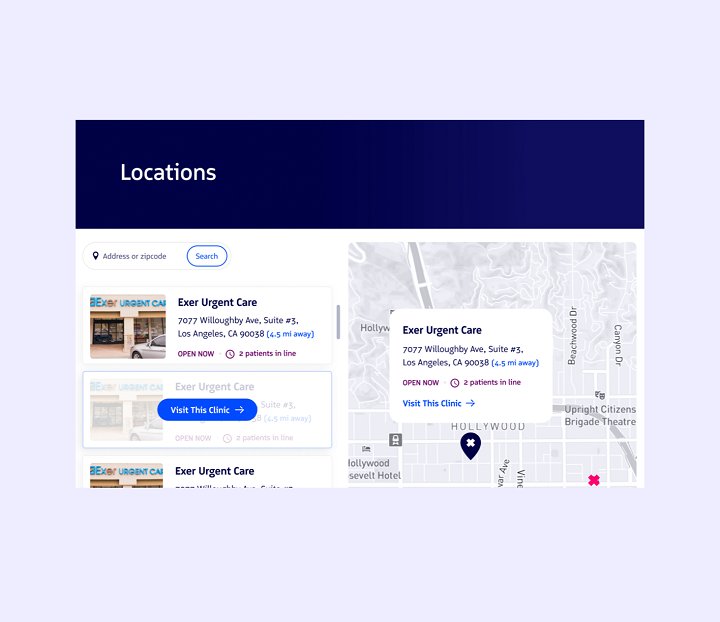 In order to ensure all Exer patients get the urgent care they need as quickly and conveniently as possible, we created a beautifully interactive Locations map. Along with comprehensive clinic information, the real-time line tracker tool allows patients to choose the best clinic for them, based on actual wait times at clinics in their area.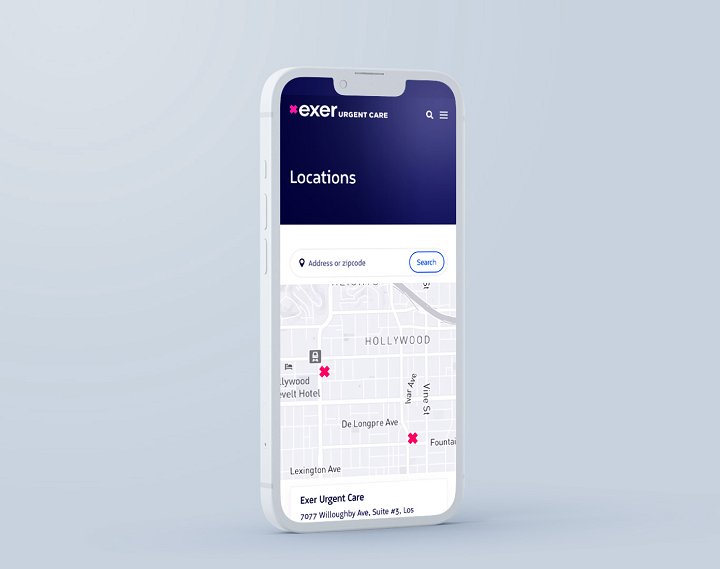 No more crossing your fingers for a short wait. Exer patients can choose the clinic with the shortest queue.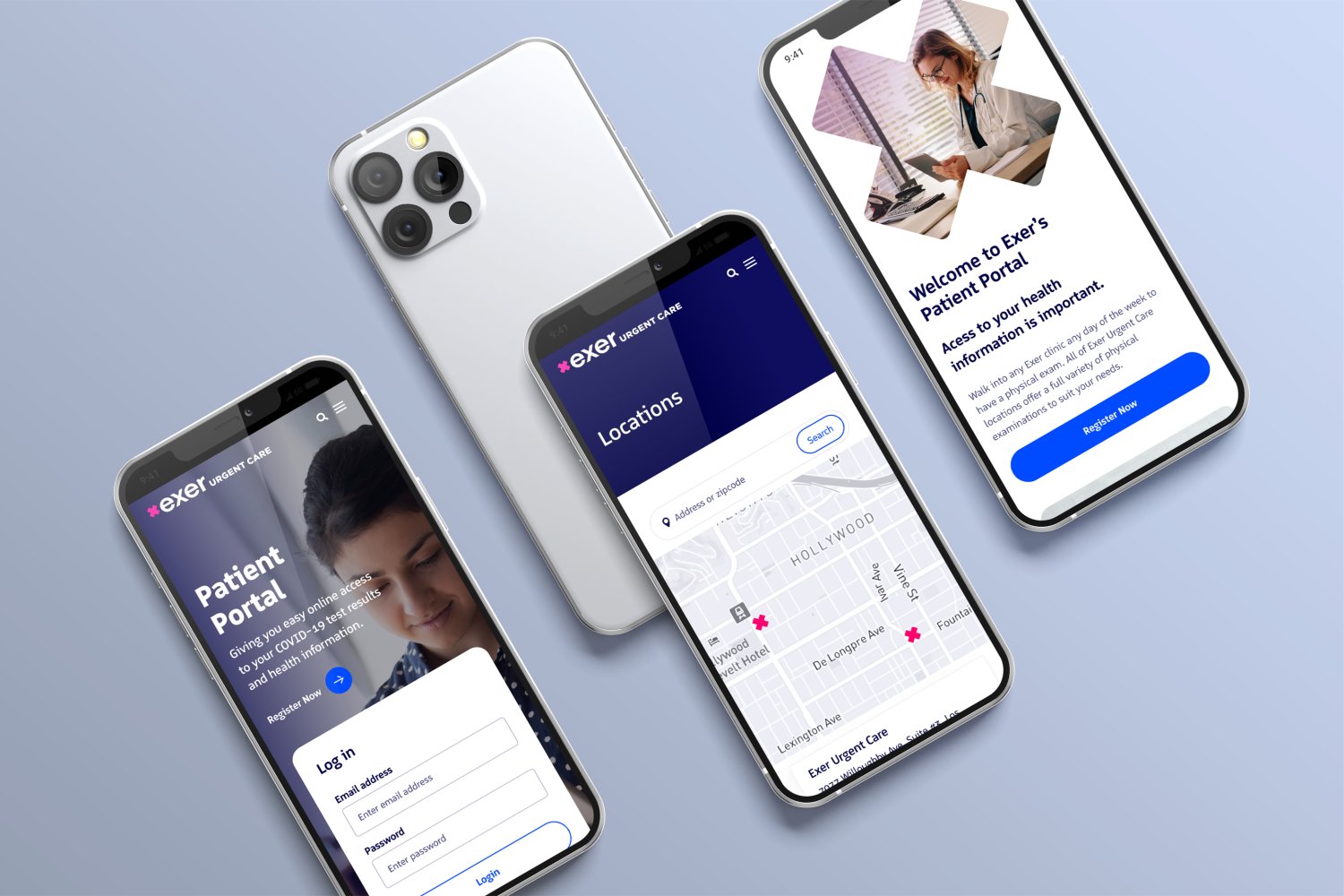 Telemedicine and mobile care at your fingertips, and more intuitive than ever
Mobile accounts for over 80% of Exer's traffic, so ensuring that patients can easily get the best care from their phone was a major goal of this project. Along with a specific emphasis on mobile design and UX, we integrated two major components for mobile patients: a virtual care telemedicine platform, and the Get Care Now page, so Exer could make urgent mobile care more accessible than ever.
The integrated telemedicine platform, also with a real-time virtual line, enables patients to get care through their phones, and more conveniently consult with doctors remotely. The Get Care Now page uses patient inputs into the booking wizard to funnel them to the care they need. By matching them with locations offering specific services, booking an appointment with the right doctor, in the least busy clinic, is now a breeze.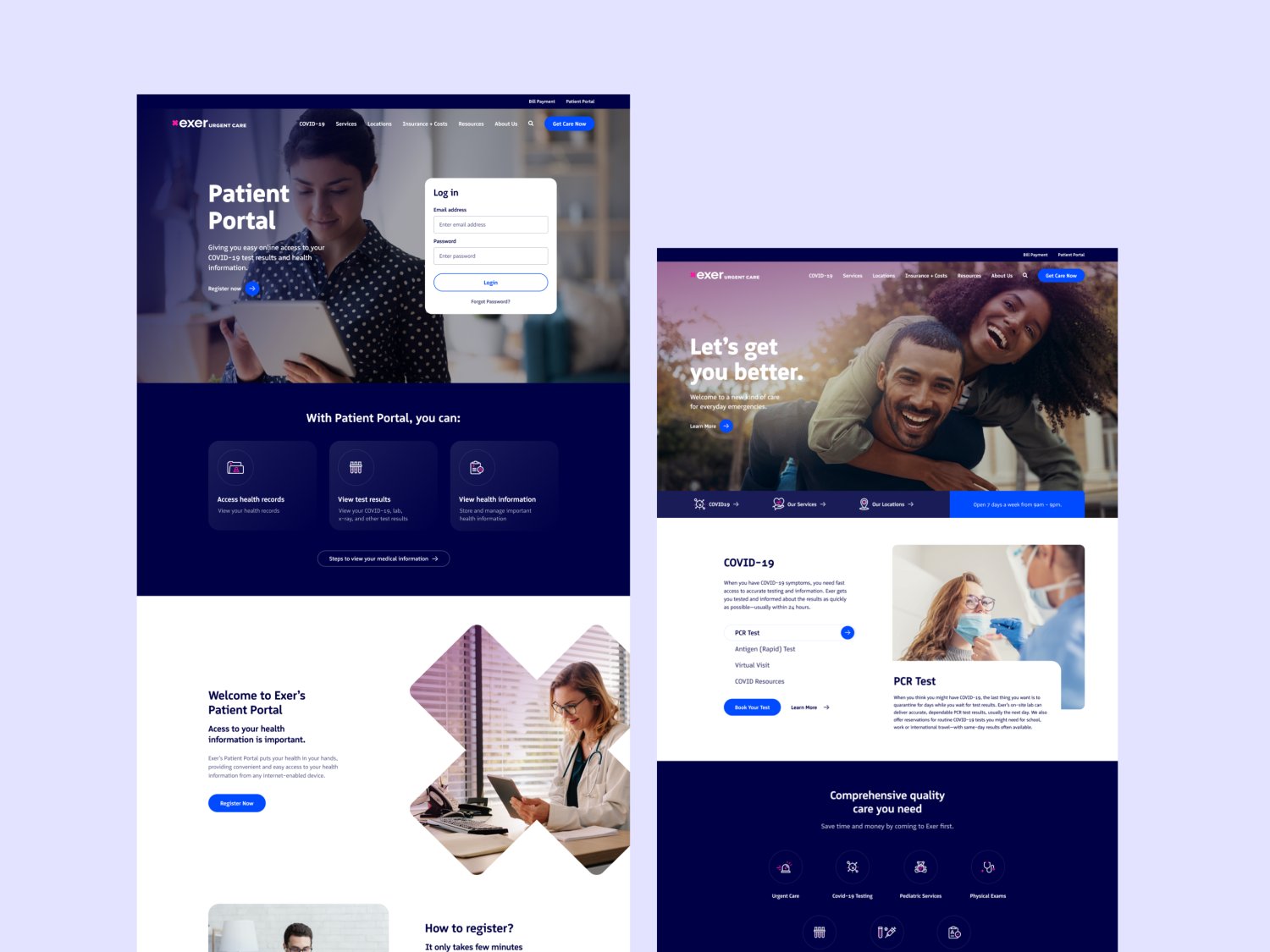 Building the ER alternative, created and staffed by ER doctors
With Exer growing so quickly, and competing in such a rapidly developing market, they needed the tools to grow and manage their website as new clinics open and business expands. We enabled this with a new CMS that allows in-house staff to create, manage, and maintain content easily, including adding new clinic locations and maintaining accurate information as things change.
Exer's new digital experience helps to realize their goal for patients: offering top quality care, testing, diagnostics, and many more urgent care services, with industry-leading convenience. Exer patients know that they won't have to wait in unexpected lines, or navigate a confusing website, ever again.